This was originally published as a newsletter update. If you'd like to receive those first, just head here and sign up :).
It's been a while since you got a "State of the Union" update from me!
There have been so many cool milestones this past year… and this is the closest I can get to a "Year in Review" post considering what life looks like right now… so perhaps you'll indulge me?
The story is juicy… I share how much I earned this year, how I got more visible in my business, and the #1 way I suck as a parent and want to improve (that part's at the end).
First, the evidence that my genes are not totally corrupt and dumb, because look at these blissfully happy cherubs: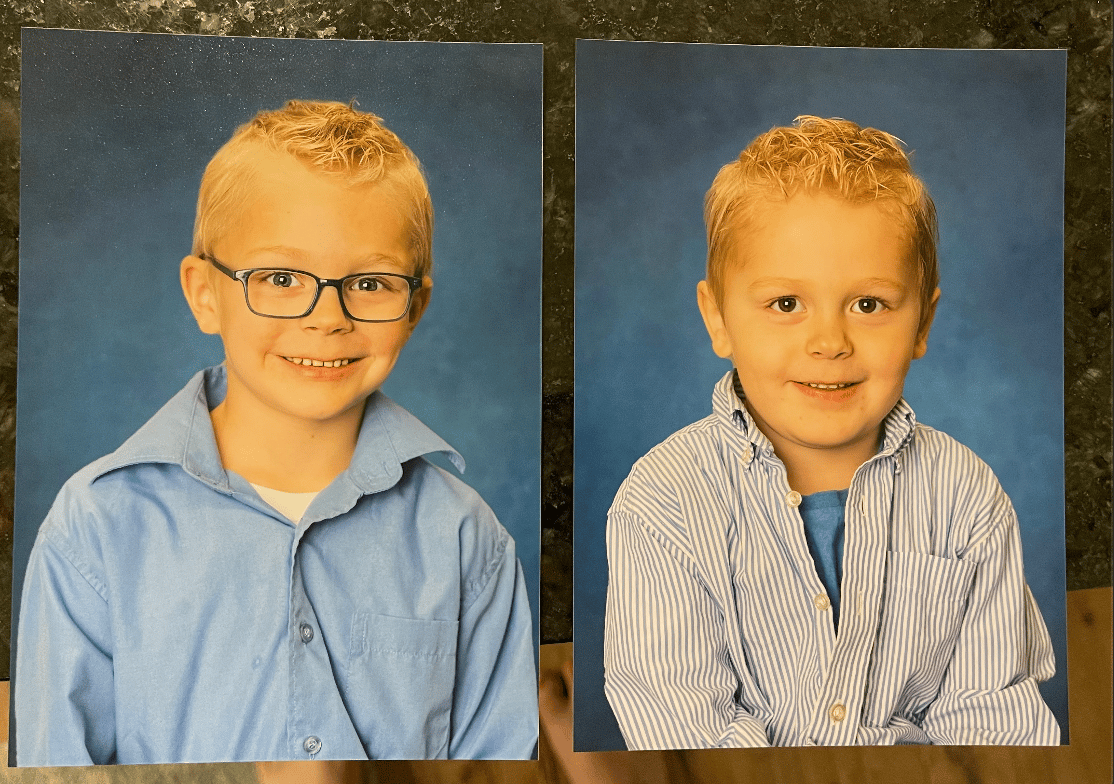 ("My reason why" … I'm so tired and grouchy all the time. 😂 Nah, but I love you kids. )
And now, here's what's happening in my world and what you might be noticing about B2BWI this year!
​
Playing "Twister" With Product and Offers
The most public changes B2BWI has experienced is how I structure the products and offers I've got.
I've been experimenting with how to provide the fastest, most intense results for writers who want to work in B2B or simply make freelancing work for them.
And it took some experimenting…
When the year started, I offered my programs as a $2,000 all-in-one package.
The more I thought about it, the more I realized that what I'm doing actually solves two different problems. And not everyone wants to solve two problems at once! So I separated them out.
(Though you can still buy it all at once, lol)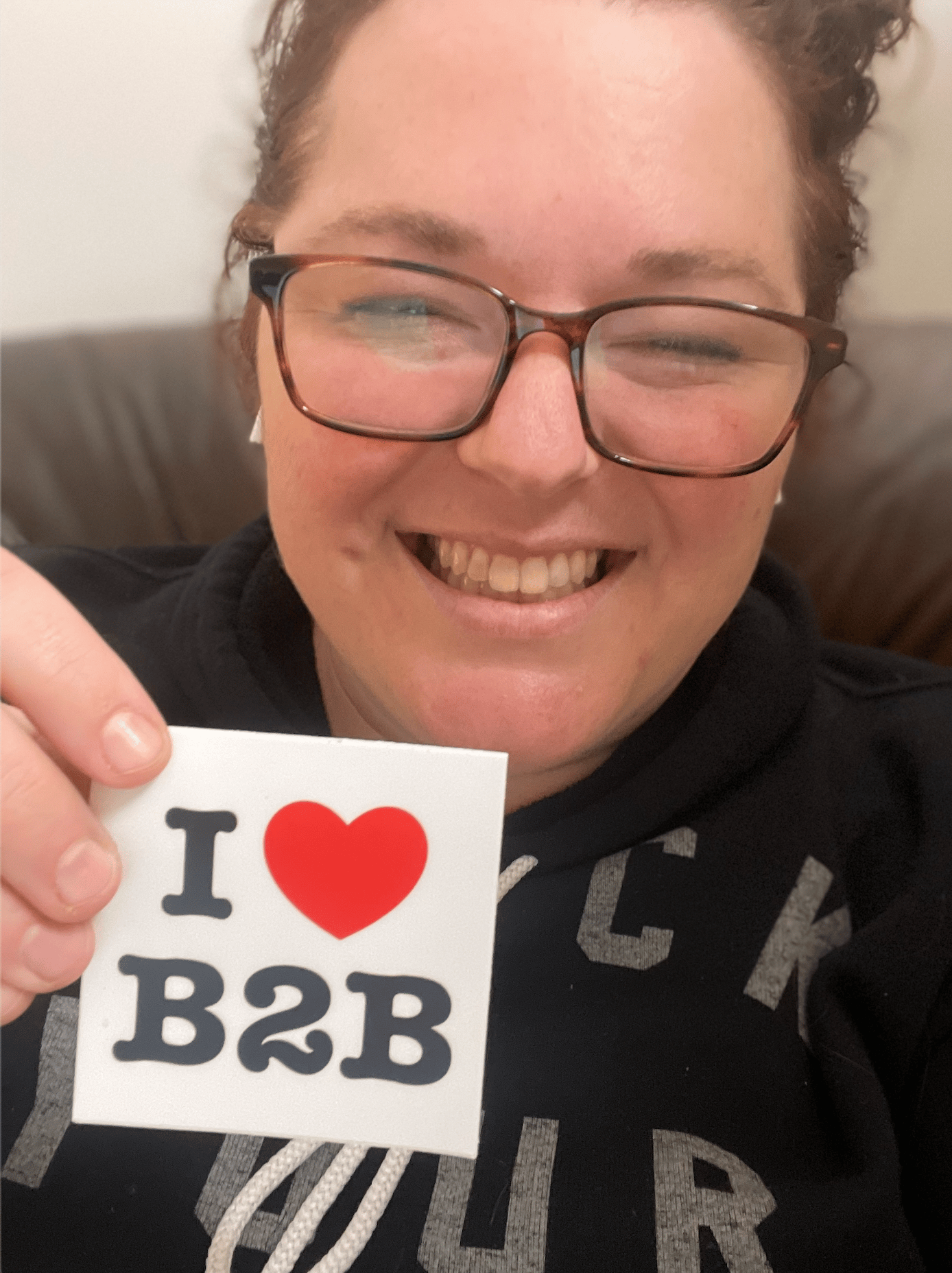 (Sticker pack is still going strong! It's part of a little welcome note I've been sending for years :))
People who want to level up their writing to be more sophisticated, and faster, for better clients can take The B2B Writing Seminar for $1500.
It's available on-demand, and we do it live a couple times a year, and you get to join us any time we do it once you sign up.
(Personally, I LOVE lifetime-type offers, so I knew that was an important element for me to keep for this one. Once I'm on your team, I am really on your team.)
(The next date is coming up in February, so you may get an invitation to that if you're looking out for it!)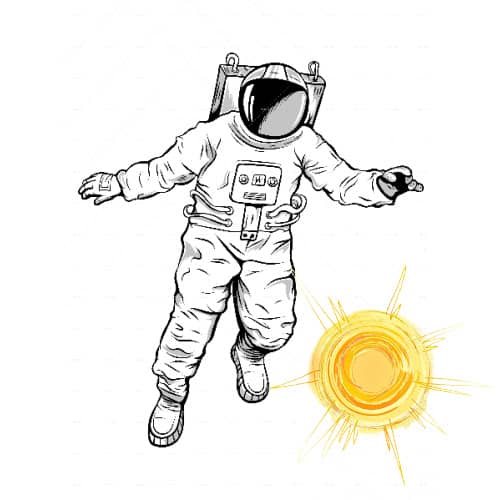 (The Moonshot Machine… get it?)
People who need what amounts to a study group about freelancing and B2B writing can join the B2B Moonshot Machine as a membership for $499/6 months.
We meet live and by replay, and then you have the full training catalog to help you get spicy in different skillsets (like white papers).
(The theme of the B2B Moonshot Machine is "Ohhhhh….. I get it now!" If you wish you had that feeling more about freelance writing, you'll want to check it out.)
Towards the end of the year, I also experimented with a 90 day 1:1 coaching program (I only offered this to folks already in the membership), and it has made my soul sing.
Can I say that about a business thing? Because it does.
Not only am I helping talented people see just how great they are, but they're bringing that new awareness into their own business dealings so they can charge more, reach out to clients, and generally step down this mysterious (but awesome) path with more confidence.
What I want most in the world is for amazing people to know how amazing they are and act with more confidence, so I'm really grateful they took me up on it.
​
Another $200K Year
I humbly submit that I've hit another $200K year (that's three in a row since the pandemic, two of which I document one of the trainings in the pricing bundle).
It's hard to talk about money, because I know what a powerful thing it is to be a high earner in a space where other people are not finding success, but there it is.
I don't think I'm particularly special or admirable because I've hit this number, but I am proud of the growth it's taken to position myself this way and charge higher fees.
It's harder to charge higher fees than just "doing it"! There is a ton of mindset work involved, and faith, and facing your inner demons.
I'll share more after I've confirmed everything, but the preliminary number is showing $197,000 gross income, and my expenses are very low because I don't outsource to a team of writers, so I'm comfortable claiming it.
The part I'm really proud of… B2BWI broke $50,000 in income this year! (Not included in the figure above)
That's where my passion lies, and what I'm most focused on, and what I'd like to do full-time, so I'm grateful to see so much progress.
When you sell products, training, and coaching, it's really hard to feel like you're making progress.
In fact, I would not have thought B2BWI did that well this year, because I spent so much time stressed about being a better marketer and seller.
But when I sat down and actually plugged the numbers into a spreadsheet (thanks to the VERY GOOD ADVICE of Lexi and Ed), I was amazed and inspired to see what I saw.
If it's a metric… track it! You should be getting credit for the hard work you're doing, and our brains are too quick to lie to us about that stuff.
​
Cool Mentions and More Visibility
I was bussssyyyyyy getting visible this year (and trying to not die from mold poisoning and #ToddlerLife).
Throughout the year, I hosted about 12 free webinars with industry guests and added about 1000 new subscribers (that's you! Hi!).
In April, I went to Nashville, Tennessee, for The Copywriter Club conference and met some of my mindset friends IRL, which was as fun as could be. I also met a B2BWI member in real life (!) which made me feel like a million bucks, especially since he was so fun to have breakfast with.
(Hi Bretton!)
I was in the top 10 podcast episodes for the previous year for TCC and got a few more mentions on their podcast.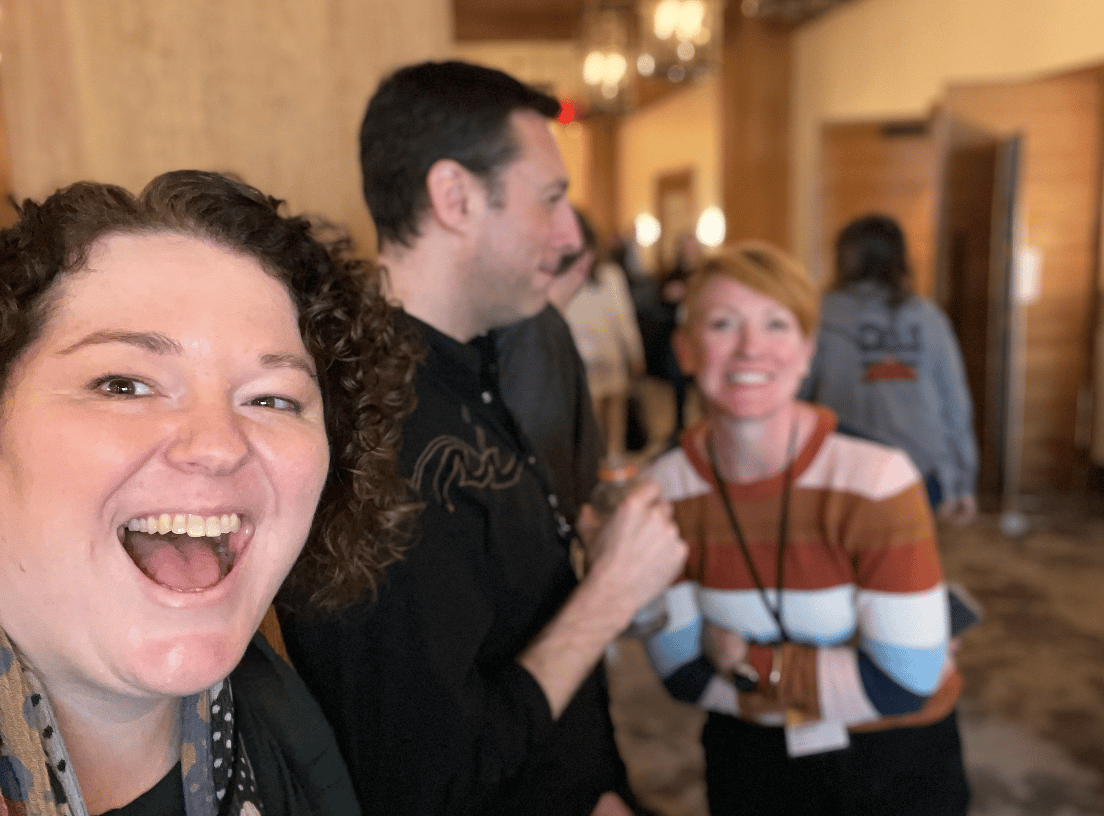 (STARZ ARE JUST LIKE US and they drink gatorade and make faces in hallways!)
In October, I went to Charleston, South Carolina, for Ed Gandia's Boardroom conference.
It was right after my mold diagnosis, so I had a lot of fun not being deathly ill, tired, and sick the whole time (and oh, yeah, those are some of the best people in the world, too! That helped!)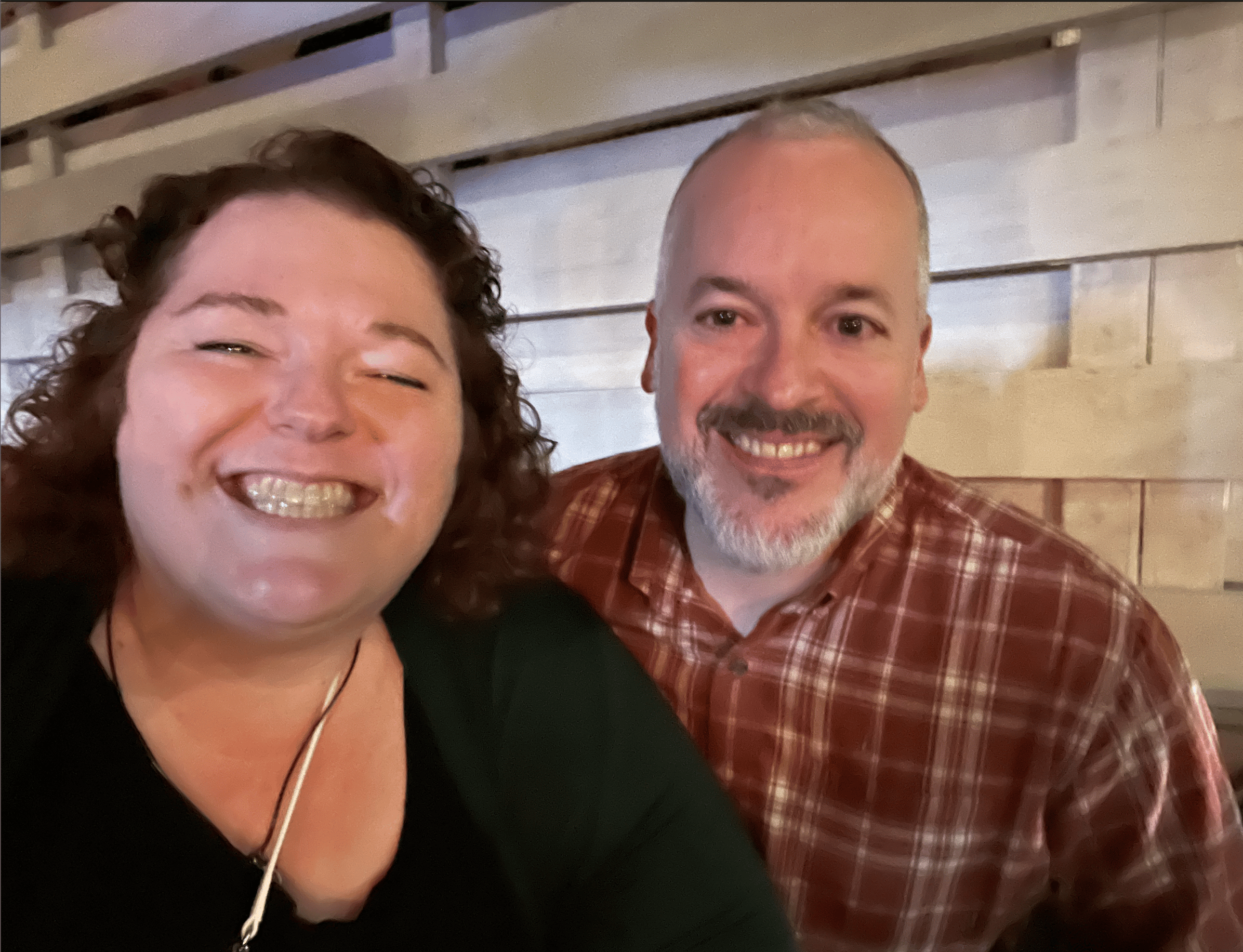 (That's the smile of someone who just watched Ted and Laura eat pimento cheese for the first time…. and hung out with Ed in person for the first time in like 6 years!)
In between those moments, I recorded a podcast interview with ActiveCampaign for their show Growth Decoded.
I also had a few posts get big on LinkedIn, which was fun to see:
I hope I can be of some comfort to people uncertain about LinkedIn — this incredible number of views did not actually change my business overnight or anything like that.
It is very encouraging and validating and feels nice, but please don't worry if you don't want to be LinkedIn famous.
Far more of my income came from doing my work, showing up consistently, and doing strategic thinking behind the scenes with a coach of my own.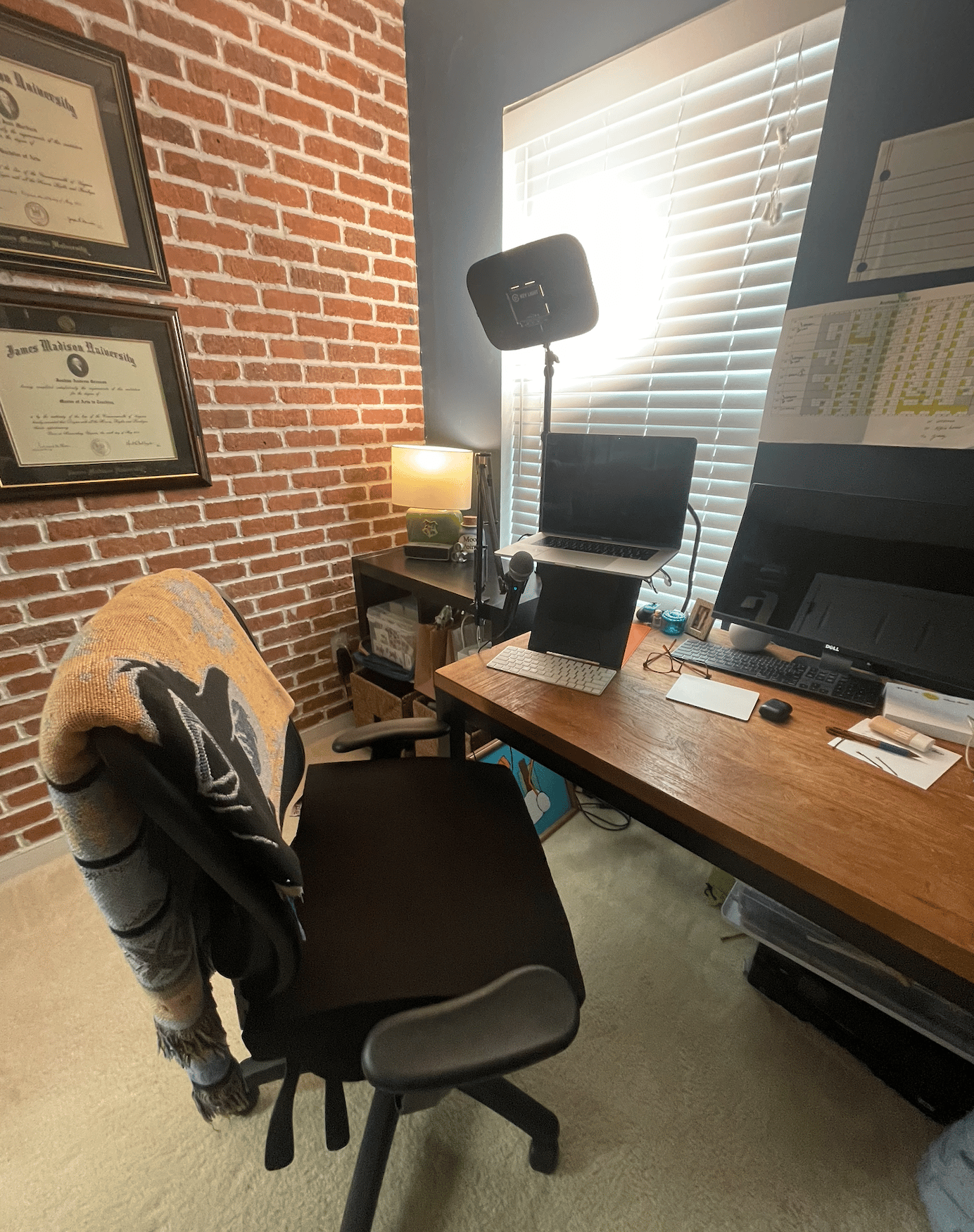 (This is where I drink my espresso I mean stress out I mean teach.)
Towards the end of the year, I let go of my co-working office lease (😭) because my back injury was doing so much better and I can sit comfortably now and the kids are in school (😊).
I'm about three weeks into that, and it's had rough patches where I had to take a walk around the neighborhood so I don't feel like I'm drowning from not having space, but overall I'm glad it's happening!
(Something I learned about myself from my Enneagram 8 journey: solitude is very important to me! Not just quiet, not just stillness, but actually being far away from people in some kind of remote setting).
Oh my goodness, I almost forgot to share that I'm also three weeks into having a Nespresso machine.
I… I am speechless with how delicious this is.
I can now have an iced honey and almond milk with espresso just about any time a day, and It's better than Starbucks. I am hoping I start drinking less soon, or it could be a problem…
​
Student Successes Keep Me Going
I'm an educator at heart, so let me tell you… more than any accolade or traffic boost or $$$ sales, what I'm most proud of is the impact of this work on people like YOU.
A coaching client who tripled their fee and got multiple work contracts just a couple weeks after we started…
Amazing women who make the hard decision to let themselves rest during a rough time…
People living in unwieldy, uncomfortable circumstances who decide to make their break through happen anyway…
Kind notes from so many who are tearing through the free materials to get themselves in a better financial position…
💜
When I'm tired, and jealous, and I want to quit the hard things in my work life, that's what I think of. And it never fails to power me right back up.
So, thank you!
​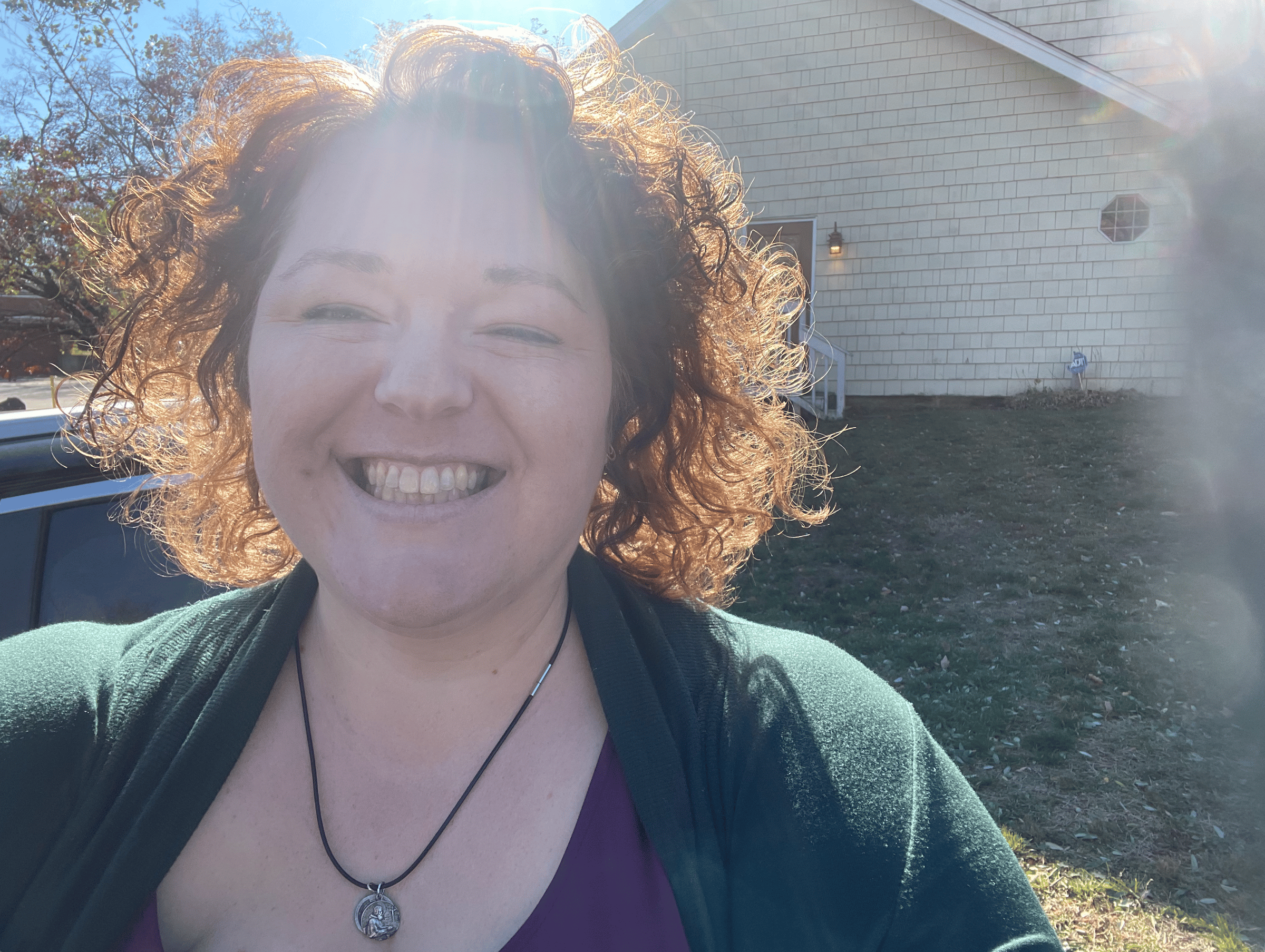 (I scrolled through 100s of photos to find one where I look young and pretty, so this is my gift to you.)
If you've signed up for 1:1 coaching or the B2B Writing Seminar, you're literally keeping B2BWI in business.
If you've purchased a bundle, shown up to a free event, or simply shared my name with others, you have really, truly helped me this year, and I am grateful.
​
What's to Come!
Well, I'm going to plug all my material into ChatGPT and let AI do the rest of the teaching.
LOL.
Naw, it's going to be a great year, and it's going to be all me (no robots just yet).
The things I want to keep going with include the 1:1 coaching, the Seminar, and Moonshot. I'd also like to get more consistent about publishing blog content and the B2B Craftworks podcast so I can continue to meet more people who want a career in writing.
(I love sharing in the podcast format. I just get really intimidated about "having the right thing to say" when I finally get time on the mic.)
I already have a few trips on the calendar for different business things (why did everyone choose Phoenix this year??), and I want to take some beach time with the family this summer.
But overall, the work I want to do is mostly mental and keeping my anxiety and workaholism in check enough to live a good life!
My biggest goal is to lean into being a family person this year. That is, being "a family person who runs a business" and not "a business person who has a family."
Here's what I'm still a little ashamed to share… despite the deep love I have for my children, having a family has been such a source of pain and suffering for me.
Since the beginning, but also specifically the past two years as I tried to give my all at work and had nothing left to give when I came home.
There are excuses I can make, yeah — I'm the breadwinner, I had to protect the paycheck at all costs, our family agreed I would work long hours, toddlers are psychotically annoying and overstimulating to people like me, chronic illness gives me less patience — but at the end of the day, I was not present with my family.
If I don't change that, I know 100% for sure that I will regret it in 10 years.
Don't get me wrong, I have no idea how I will do this. 😂
But if there's anything I've learned in a decade of doing impossible things, it's that I don't necessarily have to have the plan together right now.
I just have to change my mind and surround myself with people who are willing to help me reach that goal, and then I'll blink and I'll be teaching my 16-year-old child how to drive a car. 😨
So here's to us this year!
To possible things, impossible things, Nespresso machines, and everything in between,
Sarah G.